Speeding was the most common cause of fatal road accidents last year, in which 102 people lost their lives. As most road accidents still occur on regional and local roads, Sipronika and Zavarovalnica Triglav, d.d., are joining forces for the fourth year in a row in the nationwide "Calming Traffic Together" project. Of the 12 municipalities where speed indicator displays were installed at selected sections this year, Markovci recorded the largest reduction in the share of speeding drivers (by 19 percentage points), while Postojna recorded the smallest reduction (by only 1 percentage point).
Current road accidents statistics show that the need to calm traffic is absolutely urgent. Therefore, Zavarovalnica Triglav, d.d., is co-financing MHP50 "Your Speed" displays, which help calm traffic. In cooperation with Sipronika, Slovenia's biggest insurer installed as many as 68 speed indicator displays across the country in the last four years, as part of the "Calming Traffic Together" campaign.
Aiming to reduce speeds on dangerous stretches of road, where young pedestrians are most at risk, particularly in the vicinity of schools and nurseries, this year the campaign was carried out at 12 locations. Among them, drivers performed best in Ptujsko Polje in the Municipality of Markovci, which on average recorded the largest reduction in the share of speeding drivers after the display was installed (see the chart below), while drivers in Postojna were the least willing to take their foot off the pedal.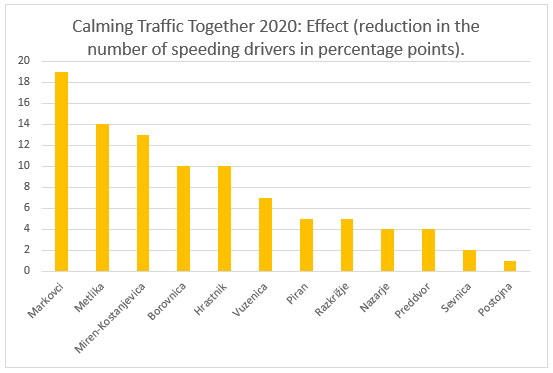 The speed indicator displays draw drivers' attention to the speed at which they should be driving and, at the same time, store and process traffic data, which can then be viewed on the www.vi-vozite.si website. The system is thus an effective solution and an important data analysis tool. "In our experience, the results of these traffic-calming measures are best in those places where different stakeholders work together: municipalities, the police, schools and Road Safety Councils, who regularly monitor and analyse the data on the portal and take appropriate measures in response," explained Sipronika's director, Marjan Kržišnik.
Improving road safety statistics through prevention
For several years now, Zavarovalnica Triglav, d.d., has been undertaking various activities to improve Slovenian road safety statistics. "We have now built an extensive network of speed indicator displays throughout Slovenia, which enables us to successfully address those drivers who are receptive to such warnings. Over this period, the number of speeding drivers has fallen by an average of 5 to 7% in locations where displays have been installed. This is huge, especially if we consider the number of accidents that we have managed to prevent or that are less severe due to lower speeds. In parallel, we are constantly studying drivers' behaviour with the DRAJV safe-driving simulator, by observation, via the DRAJV application, and in dialogue with drivers. This will also help us develop new tools that will enable us to persuade all drivers to drive calmly," said Ana Cergolj Kebler, preventive road safety project manager at Zavarovalnica Triglav, d.d., in relation to the additional activities of the project.
According to the study on factors affecting road safety in Slovenia, published in 2018 by the Institute of Criminology at the Faculty of Law in Ljubljana, a reduction in average speed of only 2% could save up to 7 lives per year.