Strategy of the Triglav Group in the period 2022-2025

The Triglav Group has revised its strategy for 2025. The Group continues to pursue its existing key strategic guidelines, while upgrading them in terms of growth and development activities and an improved client-centric approach. By focusing on these goals, the Group continues to carry out its digital transformation process and develop service-oriented business models and ecosystems which address interrelated client needs. The Group's planned operations remain profitable and safe. Through its sustainable operations, the Group continues to provide a development-oriented environment for its employees, maintain ties with its partners and be a stable, safe and profitable investment for investors.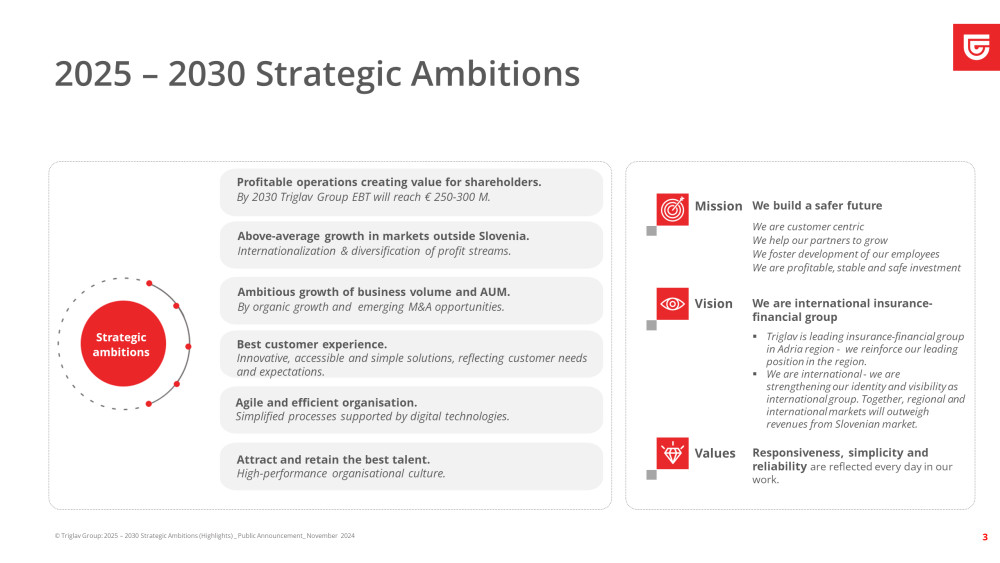 The Triglav Group's strategic indicators in 2022–2025
In terms of financial strategic indicators, the goal is for the Group's total revenuthe Group'se to exceed EUR 1.6 billion in 2025, while achieving a 10% return on equity in this strategy period (the figures are determined using the existing IFRS 4 reporting framework).
The Triglav Group's strategic ambitions in sustainable development (ESG)

By pursuing sustainability goals, the Triglav Group is creating a long-term stable basis for its profitable and safe operations, promoting the transition to a sustainable society and reducing its impact on climate change.
The Group realises its mission of creating a safer future based on a sustainability orientation using environmental, social and governance factors. The Group aims to play a leading role in integrating the best global ESG practices into its operations in the Adria region and knows how to identify the opportunities and risks of sustainable development.
More information on the renewed strategy of the Triglav Group till 2025 available in the presentation.